LVI is awarded with Red Dot Award Design - again!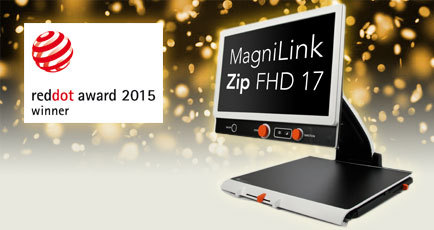 LVI is once again awarded with the prestigious red dot design award - this time for our portable video magnifier MagniLink Zip. This means that the entire range of our MagniLink video magnifiers now have been honored with the red dot design award, and for that, we are naturally very happy and proud.
Our products are developed to be technologically innovative and are known for their outstanding image quality. We like to think of the fact that we once again are awarded the red dot design award as a powerful acknowledgement for our design philosophy. We design our products to be modern, sustainable and user friendly - all with the purpose to offer partially sighted people the best possible products.

The Red Dot Awards program is one of the most highly-respected international design competitions in the world, and celebrates its 60th anniversary in 2015. The jury for 2015 consists of more than 40 design specialists.

The winning products are presented in the Red Dot Design Museums and Red Dot Design Yearbooks, on various online portals, magazines, and TV programmes.

The MagniLink Zip was among other winners such as Ferrari California T, Volvo XC90 and Sony.
2015-04-01
News Archive
2018-03-14 Version 2.0 of MagniLink ChromeViewer is here!
2018-02-22 MagniLink PCViewer update - really good gets even better!
2018-02-12 Unchanged MSRP price list
2018-02-01 Now launching MagniLink S Premium 2
2018-01-31 Let us present...MagniLink One
2018-01-30 LVI Low Vision International accelerates in US
2018-01-29 Meet us at the fair ATIA
2017-10-26 Important notice about Chrome OS version 61
2017-10-10 Now launching the software MagniLink ChromeViewer
2017-10-05 The new software MagniLink PCViewer is here!
2016-11-02 New version of the MagniLink S Software for Mac
2016-02-09 Full HD i MagniLink Vision Premium
2015-11-04 New product for professionals at work - MagniLink PRO
2015-09-03 Find the unique school solution
2015-08-26 MagniLink S and Mac - with Text-To-Speech
2015-08-18 New office in Berlin, Germany
2015-05-19 Sight City 2015 in Frankfurt, Germany - celebrate with us!
2015-04-01 LVI is awarded with Red Dot Award Design - again!
2015-02-05 The new MagniLink Zip - a success at ATIA
2015-01-29 MagniLink Zip - new generation has landed!
2014-10-22 MagniLink Voice reading machine - now available in white metal
2014-07-01 New exciting cooperation! LVI - Eschenbach Optik of America, Inc
2014-03-25 Great response to our products at CSUN!
2014-03-07 Come see our products at CSUN 2014
2014-01-03 Meet us at ATIA 2014
2013-12-06 Product release: MagniLink Voice - the new reading machine
2013-10-23 MagniLink S works perfectly on Mac OS X Maverick
2013-08-27 Small space solution for visual impaired - MagniLink S Monitor
2013-06-20 New feature for Split systems in the MLS software
2013-06-18 MagniLink Student 3 Monitor
2013-06-18 MagniLink Student 3 Computer/Monitor
2013-04-04 MagniLink S is here!
2013-02-26 Meet us at CSUN 2013
2013-02-20 Fantastic response to the new MagniLink Student, 3rd Generation at ATIA!
2013-01-28 Meet us at ATIA 2013
2013-01-18 User Story: Jeff's Most Valuable Tool
2012-12-20 MagniLink Vision TTS on sale now - huge savings!
2012-11-28 Smart Start - a smart function in MagniLink Vision TTS
2012-09-12 New video! Tom Perski is presenting MagniLink Vision TTS
2012-09-12 A New and Improved Battery for MagniLink Zip
2012-06-26 Meet us at AER International Conference
2012-04-19 Thanks for visiting us at CSUN 2012
2012-04-19 MagniLink Vision Split
2012-02-23 Meet us at CSUN, Feb. 29 - March 2
2012-02-22 Great response at ATIA
2012-01-25 New version of MagniLink iMax
2012-01-25 Meet us at ATIA, Jan 26-28
2011-12-21 Happy Holidays & Happy New Year
2011-12-15 ML Read 1.1
2011-12-15 MagniLink Vision TTS